Guidelines for indoor noise mapping in industry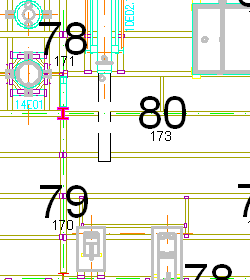 Noise mapping in industry can be useful to assess the risks of harmful noise, or to monitor noise in machine rooms. This tool is frequently used in large plants with few workers, for example in chemical and petroleum industry.
No international standard exists for mapping of noise for this purpose (Norway has NS-4814 for this purpose). Based on our experience we have set up some guidelines to make a noise map based on measurements. These guidelines can also be used to assess noise levels in machines rooms.
If an enclosed space of any kind is regularly occupied by workers, or has identifiable workplaces, the noise must (also) be determined with EN-ISO 9612.

The measurement is made during a representative situation, and if more situations are possible, the most common one. The equivalent sound level is measured. The measurement time at each position is at least 10 seconds, and at least 1 minute for each enclosed space, and is sufficiently long to give a stable reading of the equivalent level within 0,1 dB/ 5 s. The microphone height is 1,6 +/- 0,1 m above tread height.

Measurement positions:
may be restricted to accessible areas
have a minimum distance from any noise source of 1 m
have a minimum distance from reflective surfaces of 1 m
a minimum of three measurement positions is used in any enclosed space, unless the preceding rules make this impossible
minimum density of measurements is 1 position for 100 m2 (accessible surface)
maximum level difference between each adjacent measurement position is
6 dB (survey grade), or 3 dB (engineering grade). When this is exceeded, the density of measurement points must be increased until this requirement is met. The density of measurement points may vary over the space.
if equal level lines are drawn these should have a minimum distance of 6 dB (survey grade), or 3 dB (engineering grade)
a map states levels in a traceable way (e.g. measurement number)
levels on a map are rounded to the nearest whole decibel
The report states:
all relevant process parameters as far as they have influence on the noise level
a list with all measurement results, including date and exact time of each individual measurement
used measurement equipment with last date of calibration
if possible and relevant an estimation on the daily noise exposure of the workers who regularly visit the areas examined.
It is important that a map is easy to read, but results have to be accounted for: what was the exact measurement value and when was this measured. Therefor the results on the map must be linked to a table with all details of the measurements and the relevant details of the process.

Uncertainty of the measurements must carefully be considered, measurements are at least repeated ones using an interval between these two measurements of several hours.
Colleagues and other experts are encouraged to comment!
Back to occupational Health

Keywords: measurement based indoor noise mapping for occupational health assessment